Process
Selecting the right architect is the first and most crucial step in a new construction or renovation project. Knowing that good design begins with good listening, we listen closely to gain an understanding of your vision, practical needs, and design preferences. We get to know the way you live so we can help bring your vision to creation, your ideas to reality. The best measure of our success is a well-pleased client.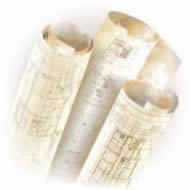 As showcased by our portfolio, we design a variety of home types and sizes in many different architectural styles. We are comfortable working in traditional as well as contemporary styles, and are trained and experienced in both. We believe a home should exist in harmony with its natural setting. With new construction projects, rather than substantially modifying the site to fit the home, we design the home to fit the site, combining forms and materials to allow the home to comfortably inhabit its surroundings. When designing renovation and addition projects, we complement existing styles, forms, and materials to create a seamless blend of old and new.
After listening to your ideas and objectives, we collaborate closely with you to create a preliminary schematic design, which we then develop and modify to meet with your approval. Next, we expand the basic design into detailed and thorough construction drawings, reviewing those with you as we progress. We work with licensed engineers as necessary to ensure the structural integrity of your home, and assist in the selection of a conscientious and ethical builder.
We remain involved during construction to whatever extent you desire to help manage changes and handle issues that arise during construction. We're glad to help you select finishes, fixtures, and colors as well. We are not only an advocate for you, but also an experienced problem-solving resource.